ESPACIO INSIGHT
Gonzalo Borondo
Éter, Cap I y Cap II
27 and 28 October 18 to 01 h.
29 October 18 to 23 h.
Espacio Insight
C/ Hermanos del Moral, 37. Practical information: Urgel metro station (Line 5) or Bus no. 34 (General Ricardos bus stop)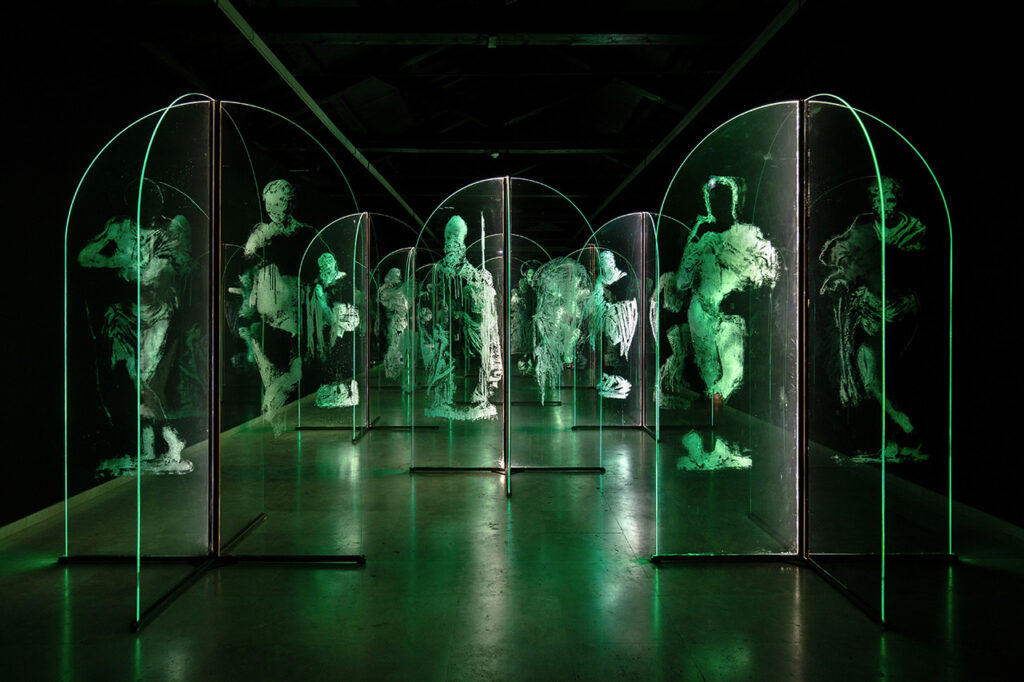 In collaboration with Insight, which oversees installation, control and regulation of the lighting, multimedia artist Gonzalo Borondo is presenting these two installations at Luz Madrid 2023 which were originally featured in his solo show "Hereditas" at Esteban Vicente Museum of Contemporary Art. This synergistic partnership allows for a bold pairing of technology with sound and lighting, turning the forward-looking approach typical of contemporary art into a comprehensive look at the past.
Running through Borondo's artistic exploration at all levels are his reflections on the concept of "inheritance", understood as a dense system of phenomena, archetypes and traditions which must be conveyed and updated. The artist plays around with identifying sacred and profane themes in the collective imaginary in order to establish an unprecedented dialectic between the past and the present.
In "Aether Chap. 1", the icon, with its circular and potentially eternal movement, becomes a looping GIF: an image somewhere between the real and the virtual. Flashing lights multiply the effect of awe and disbelief, helping to create a suspended, magical atmosphere. In "Aether Chap. 2", a glassy surface eroded by the effect of hydrochloric acid is sensitive to light and allows certain shapes to emerge like holograms.
Their experimental nature is underscored in a strong illusory component which invites observers to take part in an experience we hope will touch their sensibilities and stay with them over time.