NOSTALGIA DEL DESPLAZAMIENTO – Luces Emergentes
Galoguin y Atalanta
Spain
27, 28 an 29 October
From 20 to 01h.
DiMad
Matadero Madrid (inside).
FREE ACCESS UNTIL FULL CAPACITY
Por causas ajenas a la organización y debido a la gran afluencia de público en algunos momentos del espectáculo, las condiciones de accesibilidad física previstas pueden verse modificadas.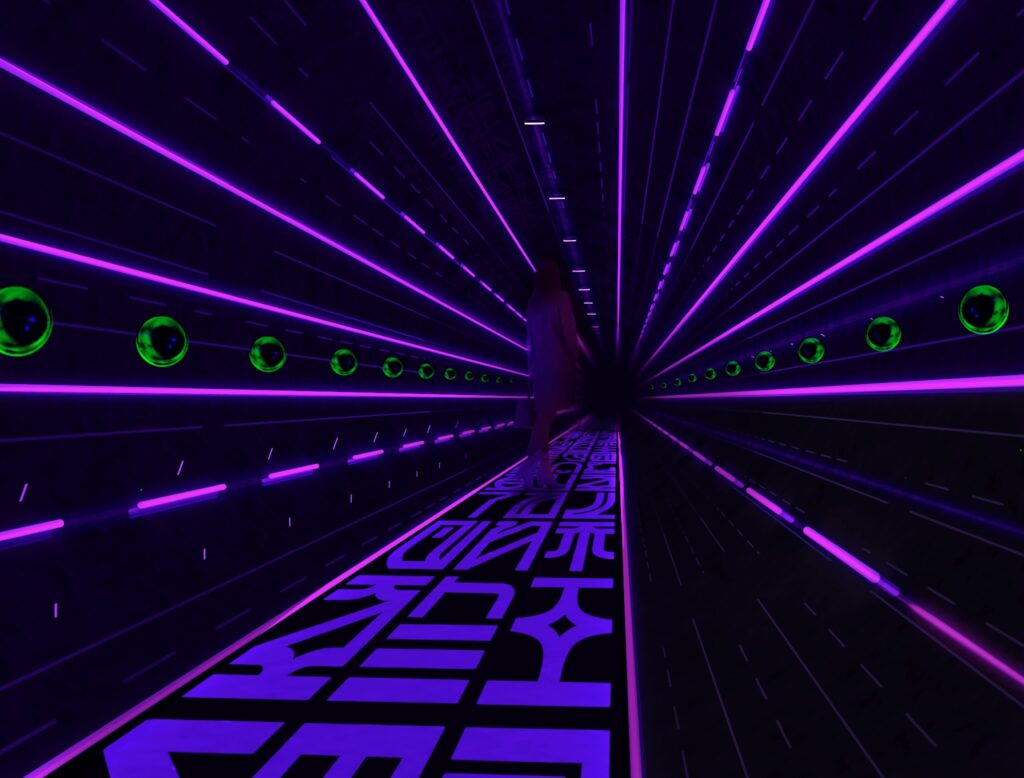 This edition of LuzMadrid includes a new programme called EMERGING LIGHTS, which aims to give visibility to young creators in an international environment, offering a window of opportunity to these budding lighting artists and designers.
The subject matter focuses on issues that concern them such as the climate and other more personal ones, such as the disquisitions of the mind, its motivations and longings, interior space as a vital experience and, of course, the pleasure of recreated light.
Curated by Julieta de Haro, Emerging Lights features Pablo Bordons Estrada's light installation In-finity; Paula Cremades' holographic installation entitled 0X1GEN0; Ángel Sevillano's projection on the ground, Intervened Bodies; and the Galoguin y Atalanta collective who present an immersive light construction entitled Nostalgia for Distance.
NOSTALGIA DEL DESPLAZAMIENTO (nostalgia for displacement ) is an installation in the form of a tunnel of infinite lights. Thanks to the flashing lights, the spectator's vision is stimulated, leaving us in a trance that arouses memories and emotions related to long road trips, dreams and the fleeting nature of life. Inside, illegible signs transport us to the unknown, to another place or even another time. In fact, these letters contain the true intentions of the work. This is how artists Galoguin and Atalanta join forces to create an experience that invites the spectator to venture into the unknown.
Galoguin is a multidisciplinary artist specialising in visionary art. Based in Madrid since 2000, her work seeks to bring the viewer closer to her own vision of the world through plastic works, installations and immersive spaces, employing a psychedelic style that involves the use of a palette of neon colours that react with ultraviolet light.
Atalanta defines himself as an artistic engineer, a creator of ideas. An artist focused on encrypted iconography and surrealism. The former to express himself and get it all out, and the latter to reflect his inner world and a way of thinking that has been his for as long as he can remember.
Authors: Atalanta y Galoguin
Production Team
Materials technician: Ruiz Martín SL
Sound space design: Noé Pecker
Lighting technician: Satur
Warning: Viewers are advised that the show contains lasers and flashing lights that may cause difficulties for photosensitive individuals.
The Central de Diseño space is located in Matadero's nave 17. Its mission is to disseminate, promote and develop the culture of design in its different manifestations and to make Madrid a reference city for international design. Its three main areas of activity are exhibitions and events, training, and the provision of services to designers and companies