MIRADAS
Carlos Torrijos
Spain
27, 28 and 29 October
From 21 to 01h. Every 20 minutes
Iglesia de Santa Teresa y San José
Plaza de España, 14 (inside the church).
FREE ACCESS UNTIL FULL CAPACITY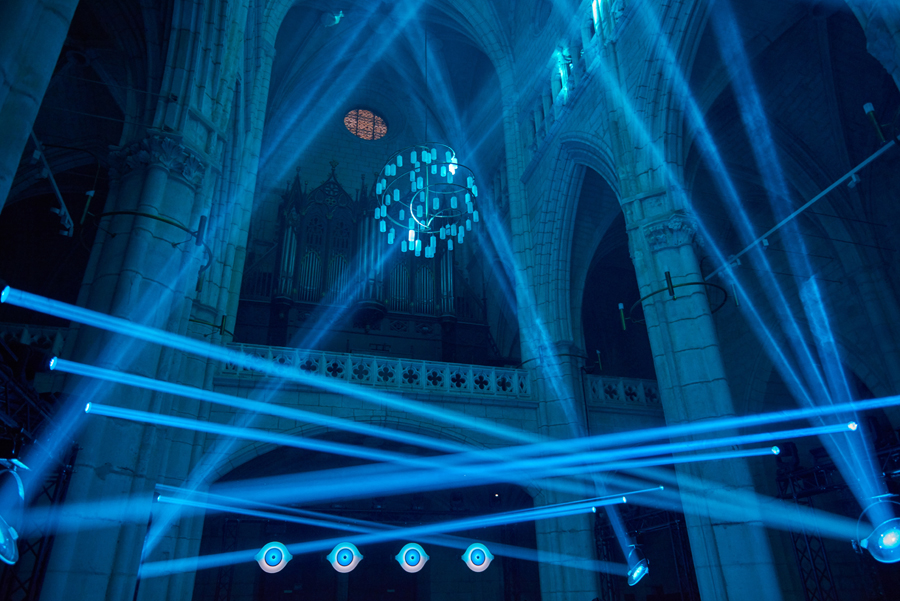 MIRADAS (Gazes) is an immersive light installation by Studio&Light which, accompanied by music, places the visitor at the centre of attention and endeavours to return their gaze to them through their reflection in the mirror. Specially designed for the interior of the Church of Saint Teresa and Saint Joseph, the artists invite us to observe attentively and at the same time to let ourselves be observed, enjoying the gaze that the gazes return to us, in a play on words that is also visual and emotional.
CARLOS TORRIJOS designs stage lighting and light and art installations. In 1990 he set up La Fábrica de Luz, a company dedicated to professional lighting in the entertainment world. He has been a lighting designer since 1995, and his recent work includes major international musicals, operas and plays.
In 2014 he launched the Studio and Light brand, in which he surrounds himself with a team of professionals dedicated to the creation of experiential design services.
(Soundscape Nils Frahm, Ludovico Einaudi, Daniele Hope)
Sound design: Eloy Sansón
Light programming: Crispi Larry´s y Fede Diez
Produced by Argia 3 S.L
The Church of Saint Teresa and Saint Joseph is also known as the National Temple of Saint Teresa of Jesus and the Convent of the Discalced Carmelite Fathers. Located in the Plaza de España, on the site of what was the old Casa de Vacas, the Cowshed, on the Príncipe Pío hill, it was declared an Asset of Cultural Interest (BIC) on 20 December 1995. Its rather medieval-looking façade is of note, as are, in the interior, where the installation takes place, the sculpture of Saint Theresa, the Altarpiece and the stained-glass windows, all originals by the House of Maumejean.