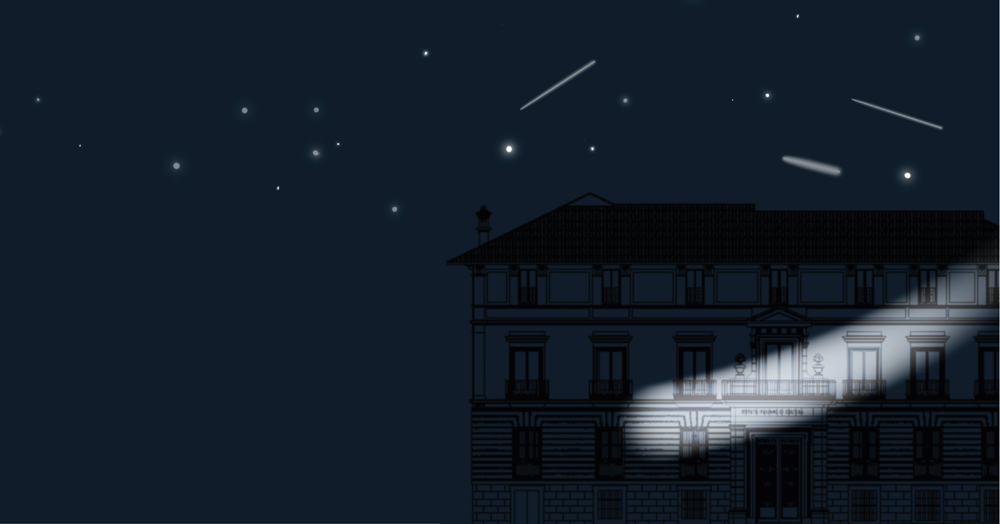 Make a wish with the Istituto Italiano di Cultura di Madrid!
Until 31 October, the Istituto Italiano di Cultura di Madrid will become a "wish-making machine" thanks to an intervention created by artistic duo Antonello Ghezzi (Nadia Antonello and Paolo Ghezzi) which will liven up the building's façade with a light installation.
"Shooting Stars" is the name of this project which began in 2013 when the artists partnered with the Italian National Institute for Astrophysics (INAF) and the Medicina Radio Observatory. The observatory's measuring instruments, particularly the Northern Cross Radio Telescope, allow Antonello Ghezzi to receive signals from shooting stars in real time as they pass through a section of the Mediterranean sky. These signals become the central focus of their art project. Antonello Ghezzi approaches this artistic investigation with loving care, combining technology, science, reality and poetry to create a wish-making device: there are many shooting stars, almost one per minute, and their constant whooshing sounds remind us that despite our troubles, there's always a moment to have hope and to dream. After being presented in a range of forms and versions at national and international shows and institutions, "Shooting Stars" arrives in Madrid thanks to the Istituto Italiano di Cultura, which becomes part of and plays an active role in the art intervention: an eight-metre-long light signal passes through the façade of the iconic Abrantes Palace, the institute's headquarters, creating a direct connection between the sky and the Earth. In fact, thanks to the real-time connection enabled by the Medina radio telescope, the installation will light up whenever a shooting star passes through the sky, transforming the institute into a reminder and a gathering place for people who want to make a wish in the heart of the Spanish capital. The project is curated by Amerigo Mariotti and Giorgia Tronconi from Adiacenze.
In addition, the Italian Institute's interior courtyard holds a second version of the installation which is also activated by a streaming-enabled connection to the radio observatory (limited capacity)
Antonello Ghezzi is an artistic duo established in 2009, consisting of Nadia Antonello and Paolo Ghezzi. Based in Bologna, the artists' work has been exhibited in numerous international museums, including: Chiantissimo, San Casciano in Val di Pesa; Gnration, Braga; Museo per la Memoria de Ústica, Bologna; Wayfarers, Brooklyn, New York; European Parliament, Brussels; Miasto Ogrodow, Katowice; Palazzina dei Bagni Misteriosi, Milan; Artbab, Manama; Tanit Gallery, Beirut; Sound Design Festival, Hamamatsu; Istituto Italiano di Cultura, Athens; Usina del Arte, Buenos Aires; Pinacoteca Nazionale, Bologna; Museo de Villa Croce, Genoa; Moscow Biennale, Moscow; Pitti Uomo, Florence; Sarajevo Winter Festival, Sarajevo; Blik Opener, Delft; Arsenale, Verona; and CIFF, Copenhagen. They collaborate with scientists and companies, bringing art into everyday life with installations that combine technology, reality and poetry.
Adiacenze is a curatorial space dedicated to experimentation in contemporary art. Founded in Bologna in 2010 with the idea of supporting and fostering an appreciation for the explorations of emerging artists through the conceptualisation and realisation of site-specific projects, it encourages artists to explore new modes of expression that can enrich their artistic investigations.
For more information, click here