GRUTA 77
Paco Graco y Javier Cruz
HIJ S DE ROJAS
27, 28, 29 October
From 20 to 01 h.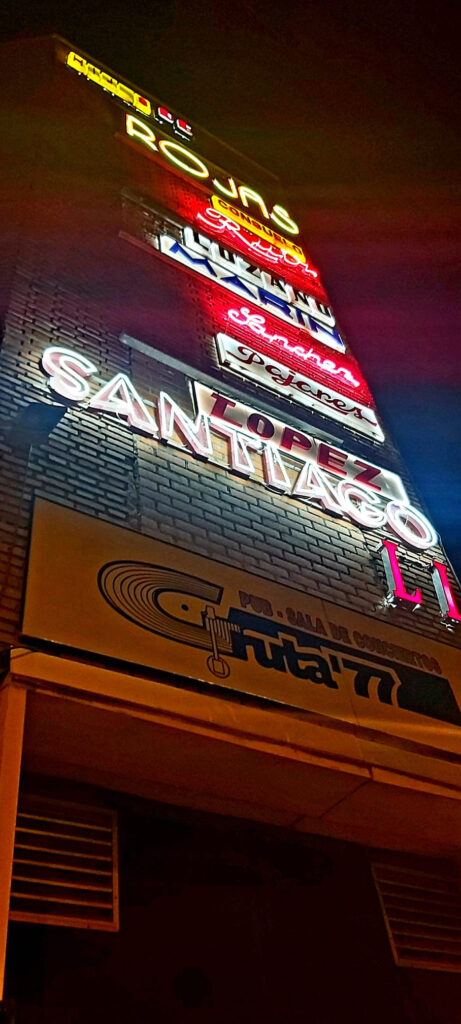 In 2022, the collective PACO GRACO (a member of the Iberian Network in Defence of Graphic Heritage) created a temporary light installation featuring 10 illuminated signs, in collaboration with the artist Javier Cruz.
The piece was designed specifically for the façade of Gruta 77, an iconic concert hall which also offers rehearsal spaces. It was called HIJ S DE ROJAS ("Daughters of Rojas", originally "HIJAS DE ROJAS" but the letter A has fallen off over time, causing it to read "HIJS DE ROJAS"). It was developed in collaboration with the European Design Institute (IED), the Carabanchel Cultural District Association, the Ecosistema ISO Association and artist Javier Cruz.
The installation is a tribute to the surnames of the families that have populated Carabanchel over the past 80 years and it includes some signs salvaged from businesses that have closed in the district, which is undergoing an urban transformation.
PACO GRACO is a project that defends and safeguards a shared heritage in Madrid which has come under serious threat: the graphic heritage associated with local trade, which stands in witness of the city's history. It aims to preserve examples of signs from businesses across the Iberian Peninsula which are being demolished in massive numbers in recent years.
The collective is committed to safeguarding the graphic heritage of our neighbourhoods by salvaging, since the end of 2014, these signs from shops that have been gradually closing their doors in Madrid. In the past 7 years, it has managed to recover over 200 signs (including those of two shopping arcades that closed between January and April 2021).